Within the cannon of Airhead religious thought, nought engenders more mystery than the holy bump-stick. I had chance to witness one spontaneously burst into flames. I really did. 'It's a miracle!' I cried.
As the flames subsided, ecstasy gave way to the realisation that I was possessed of the Devil in the detail of yet another misleading cam specification.
To compare cam denominations is folly! They pray to different Gods who mete out judgment according to a confusing panoply of checking-height scriptures. Even within denominations, these scriptures can display great contradiction.
Encyclicals from the Church of Schleicher, for instance, proclaim that checking-heights exist at the end of opening ramps. Some of this denomination's children share the same ramp and can therefore be directly compared. The others are orphaned in Limbo.
An Ecumenical movement has attempted to unify scripture across all denominations so the world's flock may receive wisdom: A checking-height of 0.05" in the New World and 1mm in the Old. Sadly, in acts of religious arrogance, many denominations resist.
Therefore, a quest came upon this author: To collate all insights gleaned by the Skrunkwerks Bump-Stick Diviner into a Holy Ecumenical Cam Table under a Unitarian checking-height of 1mm. Let all Airhead disciples rejoice!
The Skrunkwerks Bump-Stick Diviner.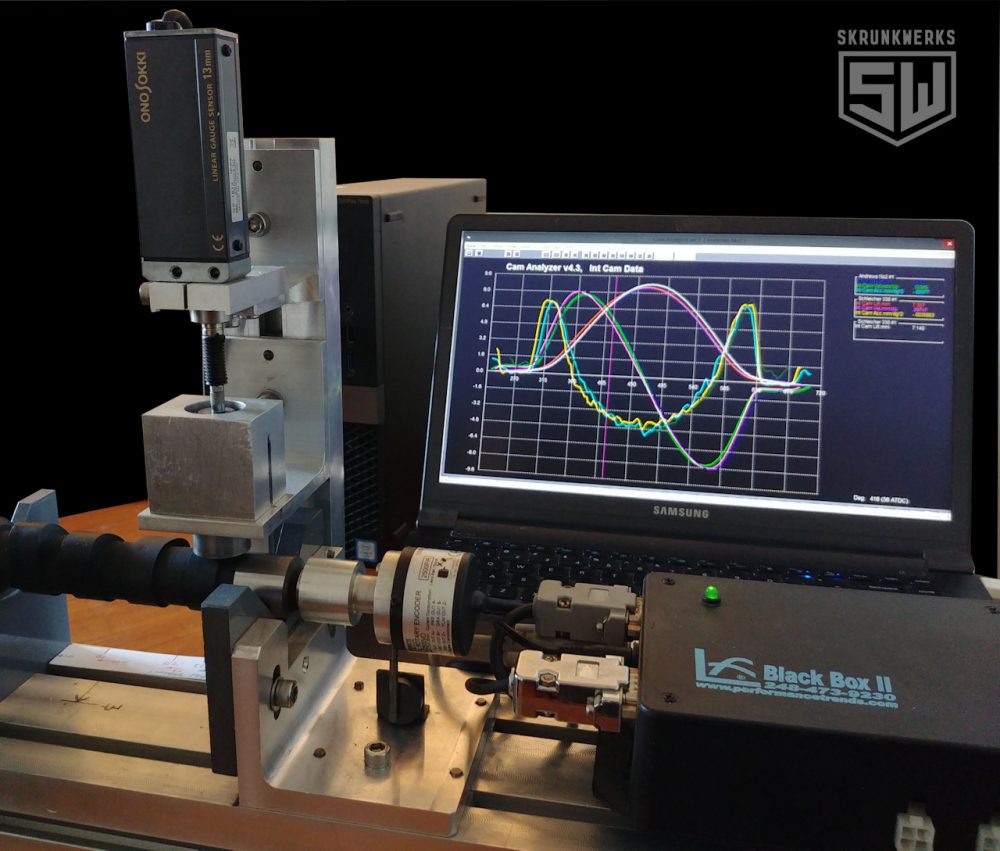 The Gospel of Airhead Torque
(or Dante's Eight Levels of Cam Hell)
---
Chapter 1 Verse 1: BMW 308.
Our Profit, beloved of many and rightly so. Revered and beautifully mannered gentleman who never misses a sabbath visit to the Church of the Sacred Airhead. Gives generously of torque to those of mid, low, and higher RPM alike. Thus arose the Gospel of Airhead Torque.
Schleicher 320:
New Testament mild sports cam. Sometimes speeds past the Church of the Sacred Airhead on the Sabbath but never forgets to leave a shekel in the bowl for those of lower RPM
Schleicher 324
Post Reformation but still tempted by the Gods of HP Mammon, guilt has it occasionally remembering its  religious observances, leaves half a shekel.
Schleicher 340
Completely lapsed, it prays to a pagan God. 9000rpm+ and matching HP from lift and duration of Occult proportions. One must first paint a hexagram on the workshop floor before debauching a motor to sate this abomination's sinful appetite. Those of lowly RPM are truly forsaken.
Schleicher 336
Witnessing the excesses and fall of its pagan brother, the 336 strives vainly for perfection though doomed to purgatory as it struggles to retain power while bending to those of lower RPM.  Shuns any suggestion of religious lineage to its bronze age namesake.
Skrunkwerks Dual Pattern
Of the New Age prosperity gospel. Speaks in tongue of generously spreading increased bounty to those of all RPM's. Claims Asymmetry spoken by others is a false God but struggles with Cartesian duality.
BMW 336 Sports Cam
Jealous Old Testament God of sports cams. Hypocritical in spreading the Gospel of RPM love. Its spectre is still sometimes seen angrily waving gilded crutches at New Testament upstarts who think they know better. The Schleicher 336 stands accused of using his name in vain.
Andrews No.2
Pilgrim Airhead Missionaries failed in having the Gospel of Airhead Torque take root in the New World. Materialism and avarice for HP instead spawned the Devil's cam, luring the greedy into short lived gratification before revealing its true nature and devouring its host. Long banished and NLA for its sins.
Schleicher 330
A craven image of the Andrews No.2? Or is it the other way? Either way, they are very similar right down to their destructive nature. As a result, the 330 is also NLA having been banished from the Kingdom of Airheads.
Edelweiss EM2V1 and Siebenrock 'Asymmetric'
Both created by the same vengeful God. Waring siblings that have been measured and studied, but to speak their names in the Holy Cam Table is to invite litigious wrath. The Holy Cam Diviner has shown Asymmetry – in its true meaning –  to be a false God
A most excellent treatise on the mysteries of Cams by the sainted David Vizard may be had here and here
---
The Holy Cam Table is a continuing work of religious devotion for the benifit of all. As such it survives on alms. Please give generously of cams not yet included in the Table so that their secrets may be divined and disseminated to all. Shekels will be sent to cover postage. Cams will be returned once communion is complete.
Let us give thanks to the following disciples who have hitherto given generously:
Rudi Gregor
Hans Poutsma
Please contact here
Also please leave comments below.
Peace be upon you,
Adrian Braun