welcome to the department of bling
please email here if you are interested in purchasing a part.
clip-ons
Billet machined from 6061-T6 alloy, these clip-ons hold the bars at an angle of 7 degrees to the forks. The bars are from polished 304 grade stainless steel. All fasteners are stainless steel. For 36 and 38.5mm forks
AU$225.00 (Ex GST) + postage
filter filler
Done away with that ugly filter box and left with an even uglier gap? Fill it in with our Filter Filler. Made from carbon fibre and top coated in WO Finish*, this fetching cover has good room to house a crankcase breather tank and filter. Fits all airheads from /5 onwards.
AU$215.00 (Ex GST) + Postage
* WO Finish is a clear high gloss 2 pack polyurethane with a special translucent black tint which subdues that sometimes garish carbon fiber look under a rich, thick luster giving a slight 3D effect.
triple clamp

Aside from looking a treat. these clamps will stiffen up the front end of your bike, improving suspension and overall handling. They are machined from a solid billet of 6061-T6 aluminium and go very nicely with the CB clip-ons. Or you can bolt on the original bars.
We currently have triples for R100's with 36mm forks and monoshocks with 38.5mm forks.
AU$188.00 (Ex GST) + postage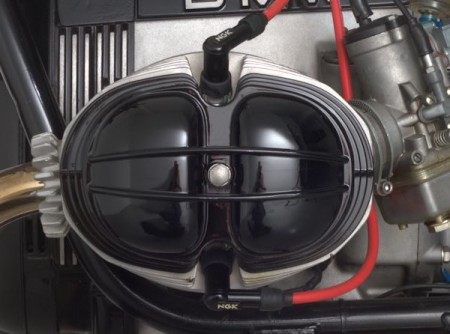 dual plugging
The full monty:
– heads machined
– dual post coils, spark leads and plugs installed
– timing canister modified for correct spark timing curve or aftermarket electronic ignition installed (we recommend Dignition or Omega)
– carbs re-jetted for fuel economy that dual plugging affords
email for a quote depending on what you want done