TThere's a certain satisfaction in hacking tons of detritus and redundant bits off a frame – a bare canvas on which to plonk your own detritus and redundant bits!
Effectionally known as the 'rubber cow' the airhead frame is well known for it's elastic nature.  BMW, in their wisdom, took the lengendary Norton Featherbed concept but rather than continuing each loop over the top and under the tank to the head stem, the BMW loops converge at a single spine that starts at the rear end of the tank and continues to the head stem.
This is where a good deal of the elasticity lurks…. and waits to be exited by the various pendulum effects from the front end and rear swing arm sections amongst other things.  I love a simplistic look but this can be hard to achieve. I could have gone the way that so many do and add tie rods that run from the head stem down across each side of the motor to the swing arm pivot area, but to my eye, this really stuffs up the simple lines of the bike.
I stood and stared and orbited around the frame for hours before settling on a stiffening plan and opted to horizontally stiffen the spine area and tie the top loops through to the head stem in a way that replicates the original Featherbed idea. Some gusseting of the head stem area was also added. Measuring and drawing in CAD for laser cutting makes things a whole lot easier.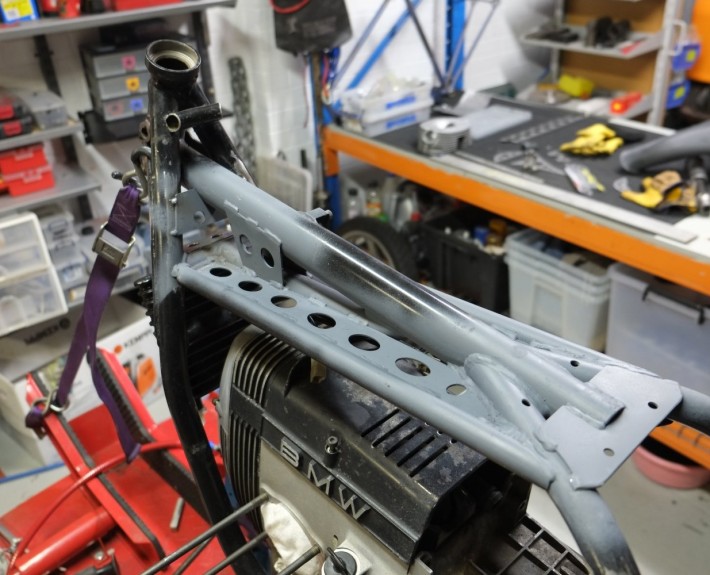 .
https://skrunkwerks.com/skrunk/wp-content/uploads/2014/01/laser_cut_frame_stiffening.jpg
1969
2215
adrian
http://skrunkwerks.com/skrunk/wp-content/uploads/2013/07/Skrunkwerks_Main_Horiz_whtsmall.png
adrian
2014-01-05 10:58:59
2014-06-27 12:09:51
airhead salt racer gets stiffed!