1972 Laverda SFC
Without question, this is the best road bike I have ever owned. One of two that were imported by Stanco into the country, featured in Two Wheels and raced with great success before being totally rebuilt with all new parts.
I asked my friend what he was going to do with it and after a moment said he had to sell it, as he didn't want it to lose the sparkle.
I couldn't get the ute quick enough to pick it up!
Able to cruise at highly illegal speeds all day and every day (which we did on many occasions). This bike epitomised what I thought a bike should be. Nothing ever went wrong with it. Unfortunately, during a momentary lapse in judgement, I sold it to finance another project.
It was also the reason for a long and happy relationship with 180 triple Laverdas. Beautiful bike.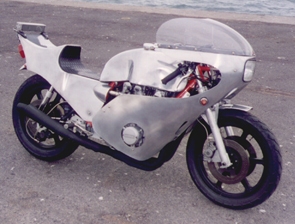 Egli Kawaski
Probably the fastest bike I have owned. Using a base Kawasaki 900 motor and then beefed up to 1200 with cams, smoothbore carburettors this was a projectile. Handled extremely well and very stable.
I just had to make everything out of alloy!
This is when I decided to make my own bike and based it on this type of frame.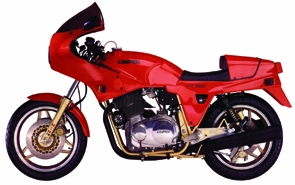 1986 1000cc Laverda SFC
One of the last eight of the second series of 250 built and imported into Australia. This 120-degree crank triple was the last attempt to save the original Laverda company.
This model used the latest, most expensive components available. I wanted the best example I could find. The former owner had it for almost 15 years.
It took me two years to find and nearly three years to get rid of it. The worst motorcycle I have ever owned.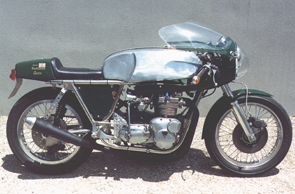 1969 Rickman T150 Trident Café Racer
One of fifty complete motorcycles built by ????.
Karel Morlang rebuilt this example to race and used Kawasaki liners and Triumph Daytona pistons to increase the capacity to 850cc.
Karel made a factory replica clutch to substantially reduce weight and incorporated a 5 speed close ratio racing Quaife gearbox.
Carburettors are Dellorto 36 mm and uses an electronic ignition system.
All engine components were lightened and balanced for maximum efficiency. It is a historically important example as it uses all Rickman parts including the Metal Profile forks and spool hubs all of which Karel was able to source from New Old Stock.
I road registered the bike and it proved to be a very, very fast road rocket.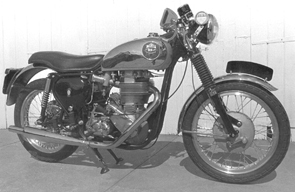 1961 DBD BSA Gold Star Clubmans
My philosophy was always to own the best possible bikes and this was the start of the line. I had the choice of 3 or 4 different bikes and this was in pieces so I opted for it as it was cheaper and I restored it. Except for the headlight brackets!
Excellent bike. I just got bored with it and swapped it for a 1955 Series D Vincent Black Shadow.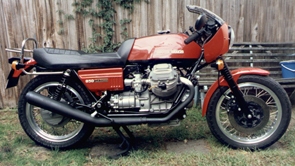 1978 Mk1 second series LeMans MotoGuzzi
Only bike I bought brand new. A revelation after owning so many English machines. This bike went through so many transformations that I can't remember them all.
First thing I did was to change the carburation, exhausts, cams... Well, really, I changed the whole bike. I even changed the gearbox and put wire wheels on it (at a huge expense).
All for optimum performance and I wasn't disappointed. This bike came close to the Laverda SFC in satisfaction but didn't quite do it for me. Although I kept it the longest of any of the bikes, I evebtually sold it to buy an Egli.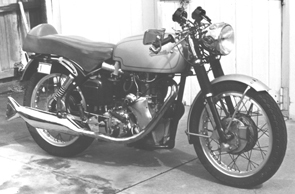 1965 Velocette Thruxton
Had to have the arch enemy to the Goldie just to see what it was like. Remember this was when these bikes were worth nothing like they are today, but it was still difficult to find a good example.
This particular model was three engine numbers from the original Earls Court model. Funny how I like these quirky bikes.
We had a bit of a race to the Winton races once and the Goldie seemed to inch away in top speed. Both seemed to get above 115 mph readily.
I preferred the Gold Star as it seemed to be more robust and could be used (not abused) without having to pamper it so much. Sold it to buy another Goldie.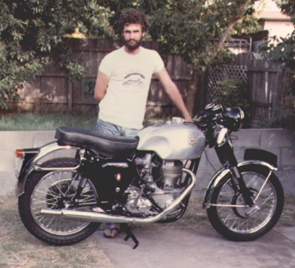 1959 DBD BSA Gold Star Clubmans
Same style as the last one except for the 190mm brake. Came with lots of spare motors and gearboxes. Wish I still had them. Sold it to famous racer Jimmy Guilfoyle.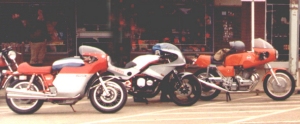 Good Company
Nice shot of the coffee stop to the races at Winton one year at Yea. We used to go the back way through the mountains, scare ourselves silly then come home by the highway thinking we were pretty tough. You don't see this type of machinery ridden as they were now although it was about 20 years ago.

Nice Harris, just finished the day before as I remember. The MV broke the gearbox one year through the Black Spur and we had to leave it there to get the trailer. It was still there when we returned. Wouldn't be today.